Now that we have all the other things out of the way, it's time to strategize the wardrobe. It's a daunting task to pack for a three-week trip that includes everything from the big city to the quiet countryside. There are a lot of considerations, but for me, the top priorities are looking stylish, feeling comfortable, and not overpacking. I also have to consider what will launder well and what will look fresh after multiple wears. It's not always easy to get a place in Europe with laundry facilities on site. I try to book lodging in the middle of the trip that has a washing machine, but other than that, it's sink laundry or sending the laundry out to a laundromat.
So, here are the basics.
Obviously, the time of year you are traveling is going to be quite influential. Given that I have school aged children, most of my European travel occurs in the summer. So consider this your definitive Italy summer packing guide. (I'll probably get to fall, winter and spring once my children are grown!)
Swimming suits! I highly recommend finding a pool, beach or both when in Italy for the summer. Nothing beats the heat like a dip in the water. Well, gelato and Aperol spritzes also help, ideally enjoyed poolside. You can get by with one suit, but I prefer two. No one likes to shimmy into a damp suit. You should also bring a cover-up. While swimsuits in Europe are definitely more revealing (and sometimes absent altogether), it is customary to wear a cover-up when moving between your beach chair and the restaurant or the pool and your room. Go figure.
I like to keep up with my running when I travel so I always bring two sets of clothes that I can run in. These are also great for hiking or any other physical activities I might choose to do.
One set of pajamas, five pairs of underwear, two bras, one nude and one black. One of those you can wear on the plane.
Now to the meat of the matter. The outfits. I tend to prefer dresses when traveling in Europe. They are super versatile, look chic and keep you cool. One black maxi dress can go to the museum in Florence, out to dinner in Rome and then look perfectly amazing at a beachside resort. A just above the knee fitted dress can look equally at home while shopping, lunching or wine tasting. Since you are taking relatively few clothing pieces with you, they have to pull double (or triple) duty.
I love this black maxi dress I snagged at Nordstrom. It got a lot of play on this trip. It dresses up or down nicely with accessories and the material is nice and light. It also is just the right length so that I can wear flats with it, a definite must since I'm not going to be traipsing around in heels.
https://www.nordstrom.com/s/frame-le-muscle-organic-pima-cotton-t-shirt-dress/6624947
In addition to the dresses, I like to have one to two pairs of shorts. I brought one pair of denim shorts that was more casual for wearing down to breakfast or for a quick trip to market. I also practically lived in these during down time in our apartment. The other pair was a dark green linen pair that was perfect for shopping, museums and casual lunches. I brought two basic tanks to wear with the shorts. These are made with great material and fit nicely. Flattering, but not too snug. They are also great basics that see lots of wear in my usual clothing rotation. I brought one in white, one in black. (If you want to pack lighter, just bring one pair of shorts and one tank.)
Last is this breezy, white button up, also from Cloth and Stone. This brand tends to be a bit more expensive, but the fabrics are divine. Like the jumpsuit, this shirt always looked fresh and was so breathable. It was also really versatile. This worked well with either pair of shorts or to slip over a dress for a little more coverage. It could tuck in fully or partially, or sport a sassy tie front. It was also fabulous as a coverup over a bikini top on pool days. This is one of those hard working pieces that you really want in your suitcase.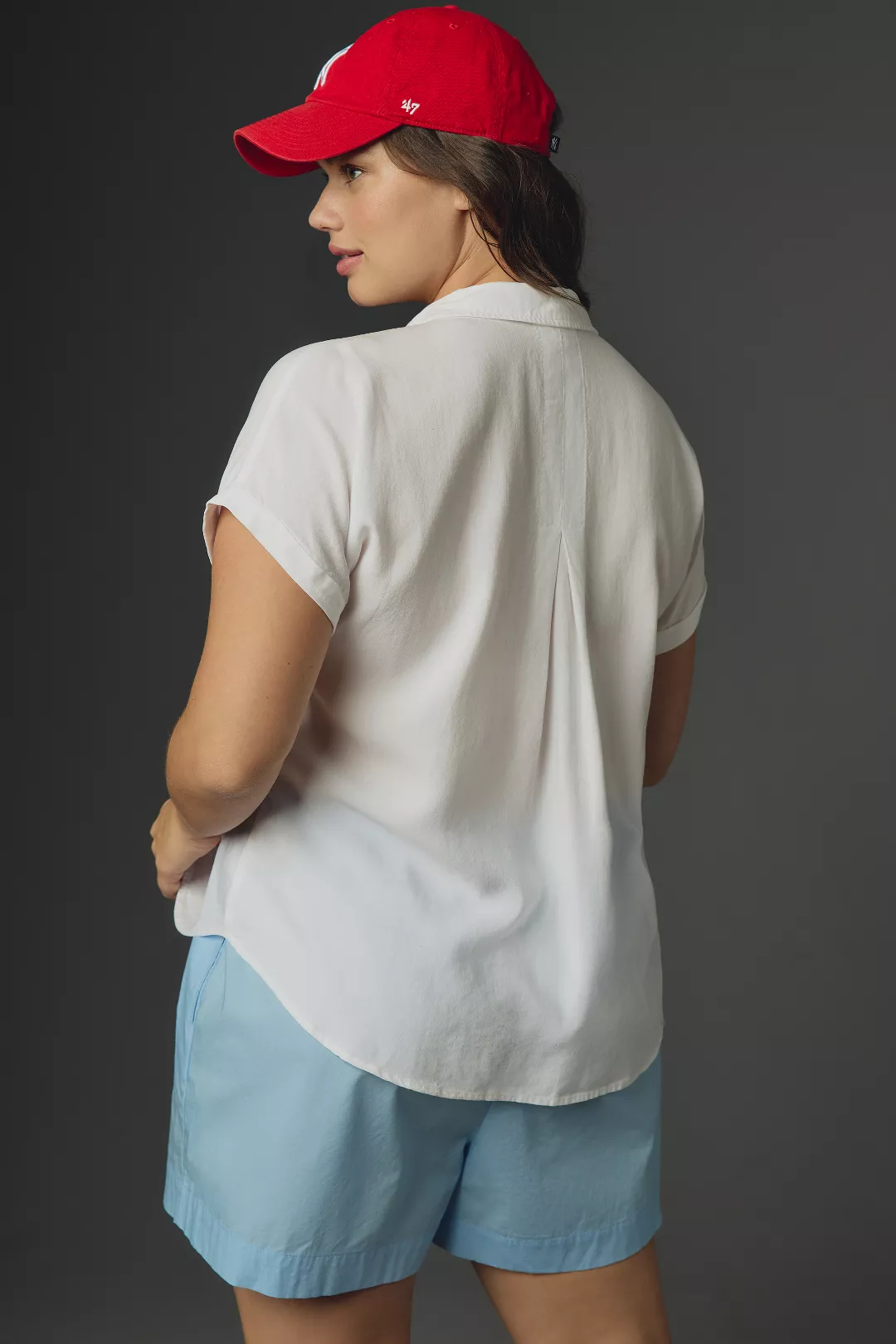 Now for shoes. My advice? Keep it simple. I brought one pair of Birkenstocks, my running shoes, one pair of Tkees for the pool and one pair of Dr. Scholl's wedge sandals. I know, Dr. Scholl's. It sounds so old. But I have to tell you, these are comfortable and stylish. They made it through cobblestones, olive groves and Pompeii. And they are a great value! They are worn above in the Tuscan vineyard with the grey dress.
Link here: https://www.drschollsshoes.com/product/dr-scholls-womens-sheena-wedge-sandal-5260347/black-smooth-60704
Finally, finally, the last category. Accessories. I keep it minimal so I don't add a lot of extra weight to my baggage. I also keep it meaningful. A well placed accessory can really elevate that same old dress you've been wearing for weeks.
Here were my faves from this trip: One small pair of stud earrings (these, from Mejuri, are worn all the time in my daily life: https://mejuri.com/shop/products/pave-diamond-round-studs), one pair of bigger, colored jewel studs, one pair of statement earrings (these, again, from Mejuri: https://mejuri.com/shop/products/bold-pearl-hoop-earrings), one pair of fancier studs (you guessed it, Mejuri: https://mejuri.com/shop/products/mini-pearl-topaz-climber-studs).
One "statement" ring, something fun and meaningful. The one I brought this time was a large, rough pearl ring I had picked up on my last trip to Italy. I also wore my daily gold and diamond stacking rings from Mejuri. Although, to be honest, most days it was too hot for rings. So these mostly got worn for dinners when the temperatures were cooler.
Last piece of jewelry was my everyday favorite necklace that is understated but sophisticated. This elevates anything you wear it with. https://mejuri.com/shop/products/diamonds-line-necklace
I was lucky enough to score a long strand of pearls in the early days of this trip. I had been looking for some for quite awhile and stumbled across the perfect ones in Florence. They were the perfect addition to my dresses for night time events. They will definitely make the cut on future trips and are a nice reminder of my time in Italy.
Two last things, and you can zip up your suitcase. You definitely want a hat of some kind. It keeps your face protected from the sun, and can really elevate your outfit. You also want to throw in some kind of light weight wrap or scarf. Occasionally, an evening can get chilly. Also, when you go into churches in Italy, especially the Sistine Chapel, your shoulders must be covered. (How I feel about the Catholic church imposing modesty requirements on women is an entirely different topic for an entirely different day). When in Rome……
That's it. All packed. I'm glad to report that everything fit in my bag and my bag was over any weight limits at the airport. I did have to use a second bag to bring home my treasures from Italy, however. Still working on that packing light business.